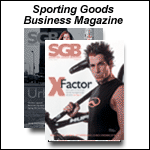 Hunting-Related Equipment Sales Rose 8% In '04

JANUARY 19, 2006 -- Hunting-related equipment sales saw the highest percentage increase of all athletic and sports equipment, according to new data from the National Sporting Goods Association. NSGA's report "The Sporting Goods Market in 2005" estimates sales of hunting-related equipment totaled $2.8 billion in '04, up 8% from the previous year.

The next-highest category was tennis-related equipment sales, which rose 5%. Archery increased 4%, camping 3%, golf 3%, bowling 3%, fishing 2%, and baseball/softball 2%.

It's welcome news for the hunting industry and for conservationists, said Doug Painter, president of the National Shooting Sports Foundation. "These figures show that our industry is out front in innovating new and better gear, and that hunters are willing to spend their hard-earned dollars for further enjoyment of their favorite outdoor pastime," Painter said, adding, "It's all working together to make hunting a growing segment of the sporting goods world."

Within the hunting-related equipment category, firearms saw a 9.5% sales increase in '04 to $1.9 billion, according to the report. Rifle sales ($722 million) showed a 16.5% increase, handgun sales ($524 million) increased 10.4%, shotgun sales ($534 million) were up 1.9% and air gun sales ($120 million) rose 3%.

Particularly strong sales were seen in hunting-related footwear, the NSGA report shows. Sales in '04 increased 21%, an increase unmatched in any other category of athletic footwear.

At $2.8 billion in total sales, hunting-related equipment ranked third among all athletic and sports equipment categories in '04, with only golf ($3.1 billion) and exercise equipment ($5 billion) ranking higher, according to the report.


| | | | | REPRINTS




Quick links: One-click access to topics in this article.






Breaking Headlines
CORRECTION TO "SUPER SHOW ENDS WITH A WHIMPER" REPORT:
JANUARY 27, 2006


Stan Mavis named President of Sugoi
JANUARY 27, 2006


Finish Line Seeing Strong 4Q
JANUARY 27, 2006


SIA Draws 18,000 Attendees
JANUARY 27, 2006


And 1 Lands Apparel Deal with High Life Apparel
JANUARY 27, 2006


ALSO IN THIS ISSUE:
JANUARY 27, 2006


Columbia Acquires Montrail
JANUARY 26, 2006


Columbia's 4Q Net drops 7.1%; Revenues Gain 4.1%
JANUARY 26, 2006


Tri-City Sporting Goods Going Out of Business
JANUARY 26, 2006


Callaway Golf Loses $18.7M in 4Q
JANUARY 26, 2006