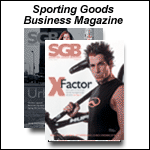 ALSO IN THIS ISSUE:

SEPTEMBER 14, 2005 -- High Sierra Sport Co. appointed Scott Vermillion as VP/product design and development, as well as Rob Coughlin as senior director of sales for the luggage division. Vermillion has worked for High Sierra for the past 15 years. Coughlin joined High Sierra from Travelpro USA, where he worked for 10 years as the director of operations and as a senior account executive.

Everlast Worldwide announced a second expansion of its original licensing relationship with Sports and Leisure Technology Corporation, a division of E&B Giftware, to include the production and marketing of a line of Everlast "Hand-X" products in South Africa. The company has served as Everlast's licensee for similar equipment in the US and Canada for the past four years, and in the UK and the Republic of Ireland since early '05.

Outdoor Interactive, Inc., a retailer of product lines for archery, camping, fishing, hunting, marine and other outdoor activities, hired AOL-veteran Cathy Anderson as VP/marketing. James Haltiwanger, Jr., CEO of Outdoor Interactive, said that the company is pleased to have recruited such a highly experienced person. "Cathy brings years of experience to our organization. Her experience in high-growth companies and eCommerce will have a very positive impact on our continued growth."

Banc of America Securities reiterated a buy rating on Nike. The target price is set to $110. The analysts mentioned that the company is scheduled to report its F1Q06 results on September 19. Nike is likely to continue to witness EBIT margin expansion and share gains in the global market in the near future, the analysts said. Banc of America expects the company's futures orders to increase by 4%-5% in F1Q06.


| | | | | REPRINTS




K2 Net Income Rose 27% In 3Q
Remington Faces Pension Deficit
Coleman Restructures Sales Organization




Quick links: One-click access to topics in this article.


Categories
Gift industry
Sporting goods industry

Companies
High Sierra Sport Co.
Outdoor Interactive Inc.
Everlast Worldwide Inc.
Leisure Technology Corporation
E&B Giftware Inc.

Concepts
licensing relationship
product lines
target price
senior account executive
buy rating

People
Scott Vermillion
Everlast
Cathy Anderson
James Haltiwanger Jr.





Breaking Headlines
ALSO IN THIS ISSUE:
DECEMBER 01, 2005


Pacific Sunwear's November Sales Rose 12%
DECEMBER 01, 2005


Finish Line Had 16% Revenue Gain In 3Q; Comps Up 4%
DECEMBER 01, 2005


TSA Fined $10,000 In New York
DECEMBER 01, 2005


ALSO IN THIS ISSUE:
NOVEMBER 30, 2005


Ashworth Hires Investment Bank
NOVEMBER 30, 2005


Shotgun Sports Attracting More Teenage Girls
NOVEMBER 29, 2005


ALSO IN THIS ISSUE:
NOVEMBER 29, 2005


Timberland Expands Anti-Counterfeiting Measures
NOVEMBER 29, 2005


Vital Apparel Group Buys InSport International
NOVEMBER 29, 2005