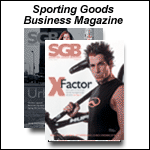 WWW Q1 Revenues Rise 17%; EPS Surges 67%

APRIL 21, 2004 -- Wolverine World Wide achieved record Q1 revenue of $224.9 million, a 17.4% increase. EPS grew to $0.30 per share compared to $0.18 per share reported for the same quarter last year, an increase of 66.7%.

"All of our major branded groups contributed to the company's record profit increase for the first quarter," stated Tim O'Donovan, CEO. "Our strong performance in the quarter was driven by the company's concentrated efforts to capitalize on the global strength of our brand portfolio and strong consumer enthusiasm for the company's products. Merrell continued to be our leading sales and profit driver, posting double-digit sales gains across all geographic regions with the strongest gains in Europe. Earnings in the quarter benefited by $0.04 per share from the 2003 realignment of our slipper business and by $0.01 per share from Sebago's spring initiatives.

"Based on the addition of Sebago and our year-end backlog position, we anticipated strong revenue gains in the first half of the year. Our first quarter sales accelerated with a mid-teen increase in at-once orders, a 3.4% positive impact from foreign currency and $9.8 million of revenue contribution from our recently acquired Sebago business."

"In addition to strong sales growth, we also realized significant gross margin improvement during the quarter," reported CFO, Stephen Gulis Jr. "Gross margin during the first quarter of 2004 grew to 38.0%, a 190 basis-point improvement over first quarter 2003. This improvement resulted from global synergies in the Merrell business, repositioning efforts in the global Hush Puppies wholesale businesses and the impact of the 2003 slipper business realignment.

"Our balance sheet metrics continued to improve with first quarter 2004 accounts receivable up only 1.8% and inventory levels relatively flat on a 17.4% increase in revenue over the same quarter last year. Additionally, the company ended the first quarter of 2004 in a strong cash position with $36.8 million on hand."

O'Donovan concluded, "Looking ahead, our order backlog was up approximately 12% at the close of the first quarter of 2004 compared to the prior year. This solid order backlog continues to be achieved across multiple brands. On the strength of 2004's first quarter, our order backlog and anticipated re-order business for the remainder of the year, we are increasing the company's 2004 estimates. We expect revenue to range from $960 million to $980 million, up from our previous estimate of $945 to $965 million, and expect EPS to range from $1.44 to $1.52, up from our previous estimate of $1.37 to $1.43."



| | | | | REPRINTS




Euro Commission Clears Salomon Sale With Conditions
President & CEO: Michael
FEATURES
View more related articles



Quick links: One-click access to topics in this article.


Categories
Sporting goods industry
International sales

Companies
Wolverine World Wide Inc.
Sebago

Concepts
order backlog
year-end backlog position
revenue contribution
consumer enthusiasm
solid order backlog

People
Tim O'Donovan
Merrell
Stephen Gulis Jr.





Breaking Headlines
Billabong To Acquire Nixon Watch Brand
DECEMBER 23, 2005


ALSO IN THIS ISSUE
DECEMBER 23, 2005


Nike To Release Kobe Bryant Signature Shoe/Apparel Line
DECEMBER 23, 2005


Inventory Liquidatoions Plunge Ashworth Into 4Q Red Ink
DECEMBER 23, 2005


ALSO IN THIS ISSUE:
DECEMBER 22, 2005


Bass Pro Opening In Reno In Conjunction With Casino
DECEMBER 22, 2005


Bass Pro Opening In Reno In Conjunction With Casino
DECEMBER 22, 2005


Russell Will Not Make Its FY Guidance
DECEMBER 22, 2005


Footstar Execs Get Employment Contracts
DECEMBER 22, 2005


Niland Joins Schutt As VP/Sales
DECEMBER 21, 2005